Introduction and
Information
(Home)
| | | |
| --- | --- | --- |
| Contemporary Bridal Gowns | "Tiffany with Dragonflies" | |
A leading proponent of Art Nouveau, Tiffany was one of the most influential designers of the late nineteenth century. His work is famous all over the world: beautiful glass lamps, stained glass windows, mosaics and jewellery. He sought throughout his career to achieve the rich tones of original medieval glass, disliking the quality of contemporary types. His greatest innovation was a form of glass called Favrile which gave stunning iridescent colours to his windows and lamps. It is said to have resembled "wings of butterflies and peacocks with their magic colours."

With the phenomenal amount of silk shades available I hope it is possible, particularly with two-toned shot "changeant" silks to come close to representing this kind of combination of rich, lustrous, colours in fabric, although inspired by glass. "Beetle" fabric, well known to theatre designers, was ideal to use for the dragon-flies!

Tiffany's famous lamps started (in 1899) as a by-product of his windows - a way of utilising the left-over pieces. The Dragonfly lamps were extremely popular and produced in many variations of of colour and size. The earliest lamps used "a repetitive pattern of conventionalized insects"; others incorporated a sense of curving rhythm and motion: more typical of classical Art Nouveau. The early mosaic lamps were in rich tones of green, blue and purple - the darker colours at the top of the lamp, descending to the brighter ones at the edges. The later 1920 ones were more typically in amber, green and opal colours.
"...brilliant or deeply toned colours, usually iridescent like the wings of certain American butterflies, the necks of pigeons and peacocks, the wing covers of various beetles".

"Infinite, endless labour makes the masterpiece. Color is to the eye as music is to the ear."
Louis Comfort Tiffany
| | | |
| --- | --- | --- |
| | | Endless combinations of colours and fabric types can be used for this patchwork effect design. These can include antique and modern textiles, vintage or personalised embroideries, ribbon, lace and buttons. The gown can be constructed with an internal boned "corset" to provide support (as in the version shown), or as a soft shape without corseting and is priced accordingly. |
As shown: £3200 including "Dragonfly" decoration and hidden corset;
£2600 without corset. Price includes fabrics but may vary according to those chosen.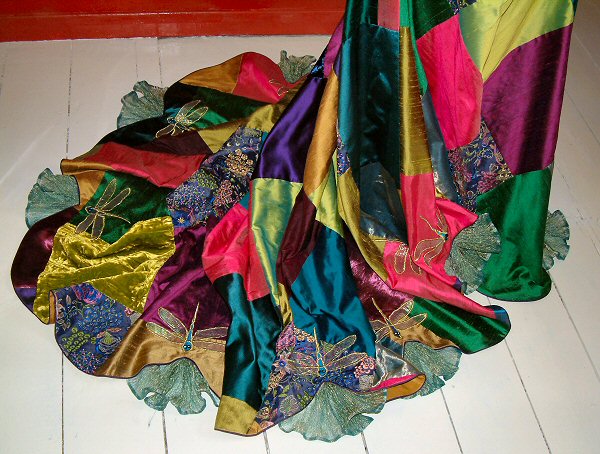 Click to also see the "Belle Dame" design (above, left). Alternative colour combinations chosen by clients:
red, green and ivory; pink with ivory; cream and gold with blue (right).
This design can be varied and individualised
to each made-to-measure order.
Bridal gowns copyright © 2005 - 2008 Theresa Blake. All Rights Reserved.