Sale of Coloured Designer Wedding Dresses
and Ballet Tutus
Sample Bridal Gowns and Tutus at less than half the Made-to-Order Couture price.
**You will find Ready-to-Wear, BRAND NEW Tutus in the Classical Tutus category**
Measurements at base of page or on the individual Made-to-Order pages.

Always representative of Rossetti quality.

No returns.
From November 2015 Rossetti will accept OFFERS for Samples (Studio Move!) and items on Accessories Page. Buyer Collects. We also have additional corsets, crinolines, ballet and bridal headdresses - please ask.
All original designs will be retained in the Rossetti image archive after the sample has been sold, and can still be Made-to-Measure orders.
Updated: 4/1/16
Most of the studio samples were made to fit a size 10/12 display stand and will
fit someone with measurements of approximately:
bust:33"-36", true waist:26"-28", upper hip:31"-33", lower hip:35"-37",
around upper arm:9"-11", forearm: 9"-10", upperarm length:22"-ish,
underarm length:19-ish", length from true waist to hem approx. 44"
There are several size 14s and 16s above. Do contact for details.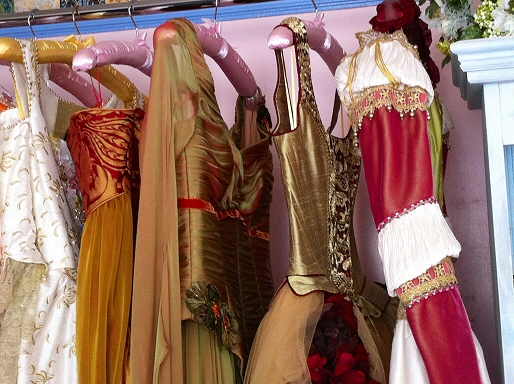 Do ask if you would like accurate measurements of the actual garment, because there are individual variations.
Some additional photos are available if there is no web-page relating to the tutu or wedding dress for sale.
Lower hip measurements are taken with the tape-measure around the widest part of the hips.
Any exceptions to this will be indicated.

Copyright © 2002 - 2017 Theresa Blake. All Rights Reserved.