Introduction and
Information
(Home)

| | | |
| --- | --- | --- |
| Contemporary Bridal Gowns | "Seashore" Corset | |
A corset of ocean coloured silk, with coral and soft terracotta embellishments, highlighted with gold. Real sea-shells, mixed with appliquéd ones; semi-precious chips of carnelian and citrine; and,of course: fresh water pearls amongst fronds of stirring "seaweed". The softest pale turquoise combines beautifully with shades of coral pink (more delicate tones in reality than represented by the photos).
If you are looking for a particular theme to follow for your wedding, this is an inspiring way to go! (My own wedding cake fom 1999 was in a pale turquoise, embellished in gold with seahorses, starfish, scallop and cowrie shells...). True, I am based not far from the North Norfolk coast where the "ingredients" are readily available in every coastal town (Sheringham and Burnham Market are highly recommended!), but real and representative sea-shells, starfish, seagulls,etc are often available, aimed as bathroom decorations and are easy to find. I wouldn't suggest adorning your reception with real seaweed (!), but consider jewel coloured netted glass balls in a marquee; large glittering semi-precious rocks and amonites as table-centres or scattered scallop shells bearing favours; seahorses to hold place-names; seaholly in a bouquet or table display....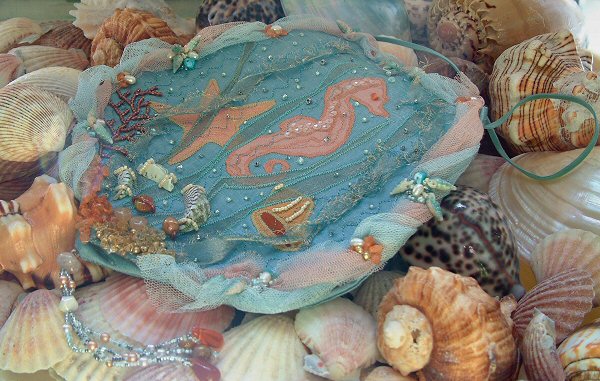 Above, a matching pouch bag to keep all the vitals of the day in: lipstick, comb, compact.
Colours can be varied from those shown - many, many shades of blue/ green are available. I have always been very fond of this combination of watery turquoise with a coral-toned soft pink (known in the ballet world as ("Freed" pink: the particular shade of their pointe shoes!). Tones may be more green with blue instead of terracotta, silver with midnight or soft blue. No two corsets will be identical due to the nature of the handwork, chosen fabrics, beads available. The design can be varied with ease to personalise it to you: from sea anenomes to tropical fish - please enquire.
Size 14 held as studio sample. NB some photos show corset with only a petticoat.
Corset as shown (or very similar): £1100 inclusive.
Matching, toning or contrasting skirts made to order by arrangement - please enquire.
| | |
| --- | --- |
| | |

Seashore Corset Copyright © 2008 Theresa Blake. All Rights Reserved.