Introduction and
Information
(Home)
Couture
Bridal Gowns
"Antoinette"
This wedding gown is based on typical eighteenth century dress. It is constructed on a more modern silhouette with flattering vertical piping. The fully boned corset bodice (shown in a pale turquoise silk deluxe dupion) and full skirt (silk organza) can be constructed from approximately 300 possible shades of plain or deluxe silk dupion and around 60 shades of organza; the decoration - sleeve frills and front panel- are trimmed with pleated tulle frills, organza ribbon and gold lace here, but can be individualised with alternative decoration to each bride's tastes .
The corseted bodice has longer lines than would be seen in an historically accurate Georgian gown, emphasised by co-ordinating silk piping.
Shot silk, silk tulle, gold embroidered lace and pleated organza frills, woven with gold thread, combined to make an extremely romantic gown. The client, shown above at a final fitting, chose to reproduce the original gown exactly for her wedding in Prague.

.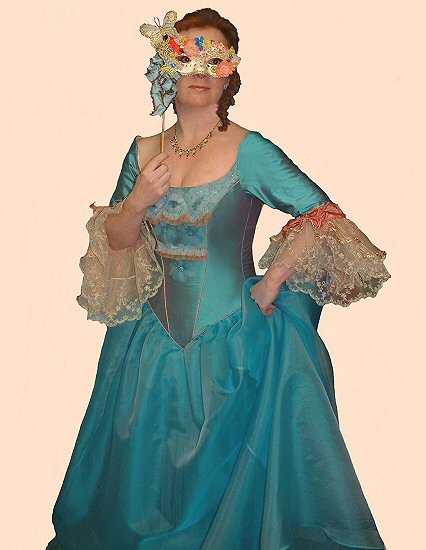 Antoinette Wedding Gown Copyright © 2003-2008 Theresa Blake. All Rights Reserved.