Introduction and
Information
(Home)
Couture
Bridal Gowns
Butterflies, Hellebores and Monograms
Jane was inspired by fabrics from a famous silk company's "Botanical collection" - beautiful dupions, embroidered with delicate flowers and butterflies, designed to coordinate with plain silks. "The Botanical Collection is a fabulous range of floral and fauna embroidered silks inspired by the English country garden".
We used the flower-embroidered dupion for the corseted bodice, combined with appliquéd butterflies from the co-ordinating silk. (Speedy "embroidery", but horribly fiddly!)
The butterflies, in toning shades of pink through terracotta were applied to the skirt hem, together with the client's initials.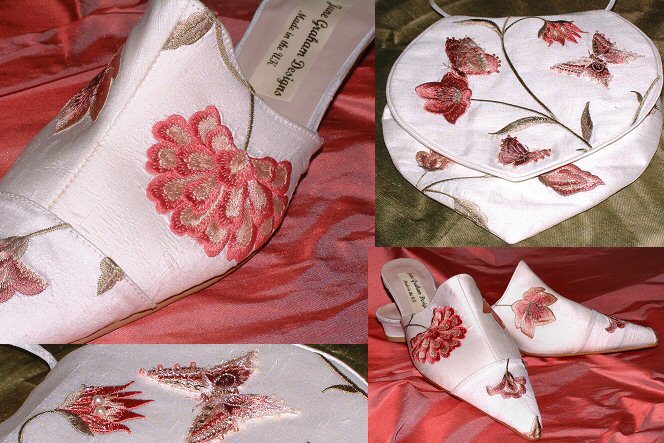 Mules were covered in the silk (above) and a small silk bag made to match.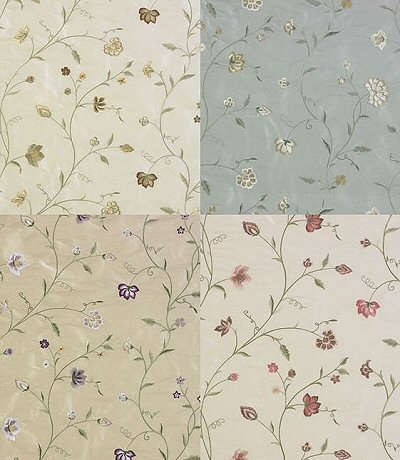 Above, the four alternative colourways in the embroidered silk: Buttermilk, Cloud Pink, French Grey and Taupe. (See "Elizabetta" in the 18th Century category for co-ordinating silks in the Cloud Pink).

Butterfly & Hellebore Wedding Gown Copyright © 2008 Theresa Blake. All Rights Reserved. Silks by James Hare