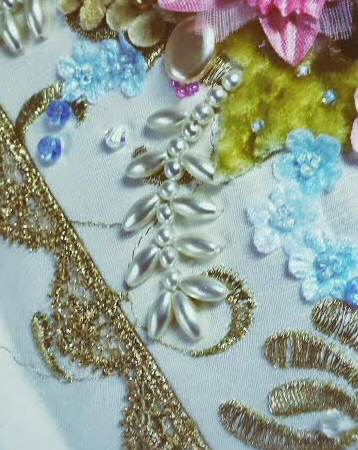 The flower embellished central (stomacher) panel is the focus of this beautiful gown in embroidered silk dupion. The wedding corset is inspired by an eighteenth century shape, cut to fit a modern figure. The entire gown is constructed in a pale ivory silk dupion, embroidered in gold metallic thread. The underskirt is in a toning shade of gold and worn over 18th century style hip panniers. The gown can, as an alternative, be worn with petticoats, or even with no foundation.

The sleeves, edged in hand-stitched gold pearls, are cut off-the-shoulder for a unique design feature.

The boned stomacher is embellished with a variety of flowers: roses, forget-me-nots, and peonies in a variety of colours and fabrics including silk and velvet. Ivy leaves in a soft green velvet tone beautifully with the gold apron underskirt and gold lace edgings. Tendrils of pearls and scattered crystals ensure a stunning impact.