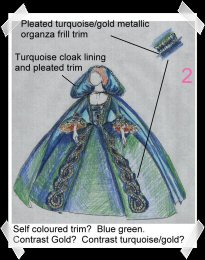 One of half a dozen design variations sent to the client - still keeping options open, but establishing estimated costs. Main fabrics were chosen at the initial consultation.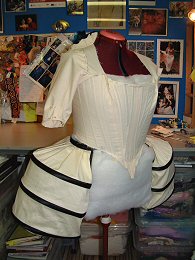 Prepared toile and bucket panniers, ready for the first fitting.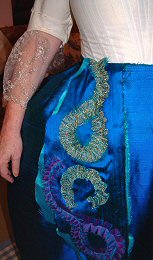 The fitted corset/ bodice toile; trying on the underskirt; experimenting with decoration variations - and wigs!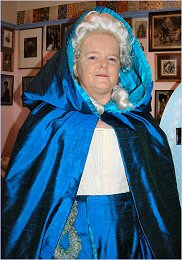 Initially torn between the blue/green silk and a beautiful shade of turquoise for the main gown, we were able to incorporate the turquoise shade to line and trim the cloak.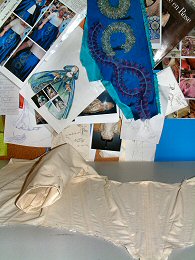 Considering the fitted toile after the fitting. It will now be turned into a pattern which will be a perfect duplicate of the client's shape.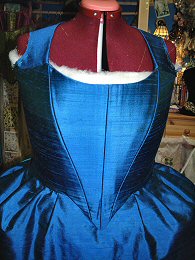 The basic eighteenth century boned bodice/corset (cut from the toile), shown over the silk underskirt.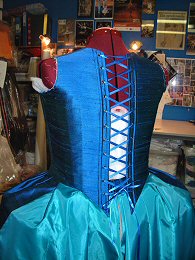 The back of the underskirt is not made of silk! Just as with an 18th century gentleman's elaborately embroidered waistcoat, the back - which will not be seen - is plain and functional.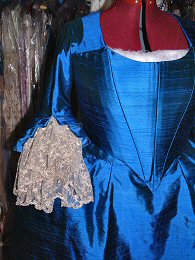 The silk sleeves are made up in their entirety: linings, scalloped cuffs and lace falls, before they are put into the armholes.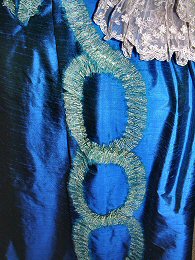 Pleated metallic organza in figures-of-eight edge the sides of the overskirt.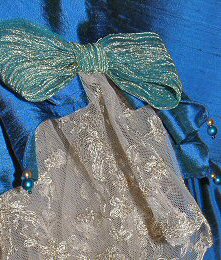 The sleeve falls are in a pretty gold and ivory lace, ornamented with bows at the elbow.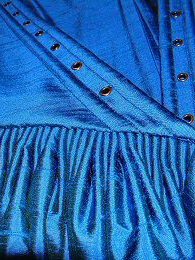 The overskirt is attached to the boned bodice with cartridge pleating.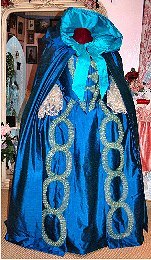 The completed eighteenth century costume with matching cape.