The most basic tutu consists of a 12 panel bodice with a skirt of 12 net layers. When made to order the skirt length can be cut according to the dancers height. The tutu skirt can be quite softly tacked as shown or can be a more rigid "pancake" shape.

This kind of classical ballet tutu (hooped) will cost between £590 - 610. Price is determined by the amount of decoration.
Silver and white tutus were designed for Harlow Ballet Association's production of "The Sleeping Beauty" 2006.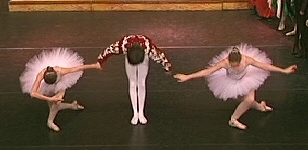 Images above courtesy of Harlow Ballet Association; below thanks to Charlotte Browne
The equivalent basic tutu in pink and silver for an individual client's festival costume, with the addition of a hologram-sequin topskirt.
Design Copyright © 2006 Theresa Blake. All Rights Reserved.