Introduction and
Information
(Home)
| | | |
| --- | --- | --- |
| Pre-Raphaelite / Medieval | "Flaming Autumn" | |
I have always found Autumn colours quite stunning in their beauty, so I was instantly drawn to this changeant (shot) silk chiffon with its glowing tones of mossy green, contrasting with a burnt orange/ terrocotta. I have rarely handled anything so lovely. Using the silk ruched on the bodice was an ideal way to show off all the variable colours which occur once it is gathered up a little: soft olive greens through to rich glowing limes, and deep terracotta shades, verging on red.
The burnt orange shade is emphasised by a velvet ribbon around the diaphragm and ribbon lacing down the back of the corseted bodice. The initial inspiration (see below) together with the sensuous feel of the beautiful fabrics - silk chiffon and crêpe satin - dictated a style which would flow. Classic Pre-Raphaelite style medieval sleeves were inevitable, balancing a layered skirt and train which fall in pools of fabric at the hem.
A mixture of pearls and crystals, amber and citrine, in toning shades is the focus of the front neckline. On the shoulder and hip are antique velvet flowers with beaded stamens and Swarovski fire opal crystal centres.
We did not aim to reproduce the Leighton painting (see below), but to follow the sheer inspiration of the feel of it. This gown is not a replica, but it is definitely Pre-Raphaelite!
"Flaming Autumn" is a Studio Sample (10/12)
for the purpose of viewing/ trying on
£2700 in shot silk chiffon as shown.
£2300 in plain silk chiffon or georgette.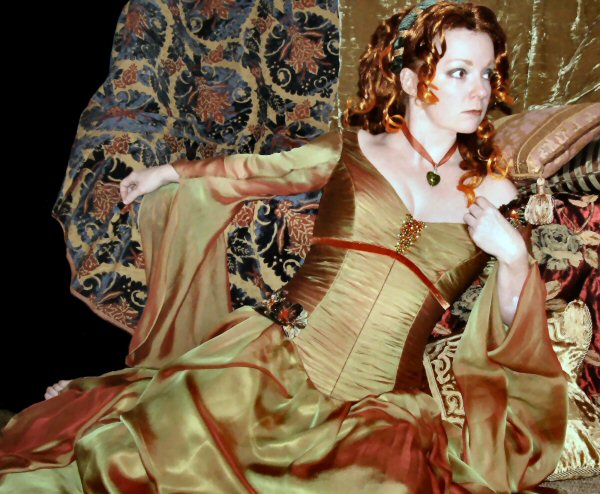 Copyright © 2008-2012 Theresa Blake. All Rights Reserved.
Notes From The Designer:
I had the inspiration and the "ingredients" in stock for Flaming Autumn for such a very long time, that I can no longer remember which came first! In my late teens the painting Flaming June adorned the walls of every other Art student I knew (as ubiquitous as the classic Che Guevara poster!) The gorgeous chiffon fabric called out to me at a point I was sourcing all variables for medieval style hanging sleeves. I bought a length, and then it sat there in my "waiting-to-be-dealt-with" category for literally years! When I finally had time to put it to use I was almost stunned by its beauty. For a similar effect in a different colour combination, around a dozen different colourways are available in an identical fabrics and yet more in silk chiffons woven by an alternative manufacturer.
A full length hooded cloak in a crushed organza (please contact for cuttings) has been designed to go with gown.
N.B. Our model discovered that whoever sat for Flaming June in 1895 was probably double-jointed to achieve this position for any length of time, and was definitely not wearing a corset!!
| | |
| --- | --- |
| | |