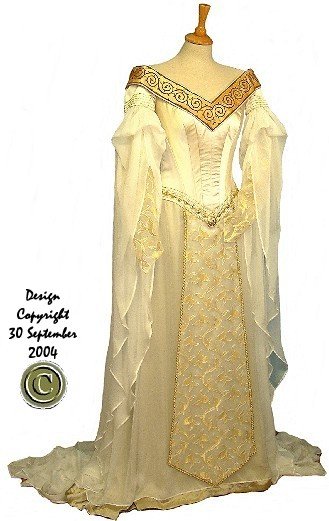 This variation on the Mediaeval theme consists of a multi-panelled duchesse satin boned bodice with a flattering double layered skirt of silk chiffon over crepe. Shown in cream and gold, this ethereal gown is matched with a wonderfully romantic crushed velvet cape in moss green, lined with cream satin. Embroidered or beaded designs - varying from entwined ivy leaves to celtic knots can be added to the collar or central skirt panel. This design can be varied, elaborated on and constructed in many different colours and fabrics.

The version, shown left was a one-off gown; the belt, collar colour and cut organza front panel were all unique pieces. However, we have stocks of the same collar fabric in gold on red and many, many alternatives for beaded belts and hanging panels. The original sample of this gown is no longer held here, having long ago been sold, but can still be made to order.

Hooded cloaks, from a range of velvets and silks: £250-£375 including fabric.

Gown from £2300-£2700 depending on chosen fabrics and embroideries.