Introduction and
Information
(Home)
| | | |
| --- | --- | --- |
| Contemporary Bridal Gowns | The Jewel Collection | |

"Turquoise"
The fabric came first: it dictated the shape of the gown, as is sometimes the case. This is an incredible fabric and extemely variable in photographs. From strip light to halogen bulb, theatre lights to natural sunshine, this mecurial fabric changes in colour and tone over and over again. I have found on five seperate occasions that if I just leave a roll of it in the corner of a room during a consultation it proves irresistable to a client. Two chose it for an entire wedding gown, one for an evening dress, one for a tutu, and one insisted on it for the stomacher of her gold gown - determined to use it in some small way!
| | | |
| --- | --- | --- |
| | | Which leads us to the colour: is it Turquoise, Peacock Blue (or Peacock Green?), is it Teal or Kingfisher? The shade suits fair,dark and red-headed, olive skinned and freckled in all different tones from the most pale eau-de-nil to the richest jewel tones (see montage below). Turquoise is a shade which contrasts beautifully with gold (mainly deep tones) or silver (mid and palest tones). The softest shades are complemented by the palest pinks and deepest burgundies. |
All that said, "Turquoise" is a style of wedding dress, not simply a colour. You may have this design in ANY available fabric colour and it can be beaded with endless combinations of jewelled stones.The gown has a "faceted" bodice to resemble the cut of a jewel. The play of light and shade is extremely flattering simply as an unadorned boned bodice. The jewels take it to another level. Cut glass beads give flashes of rainbow light, peacock blue pearls and sea-green crystals combine to provide even more depth of colour - blues and greens mixing in all possible tones.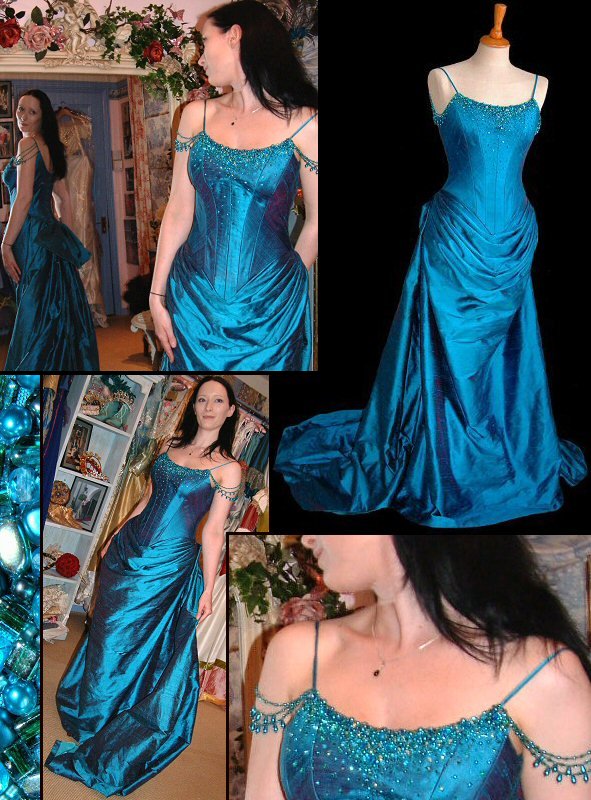 Below, a moodboard of "Turquoise" inspiration.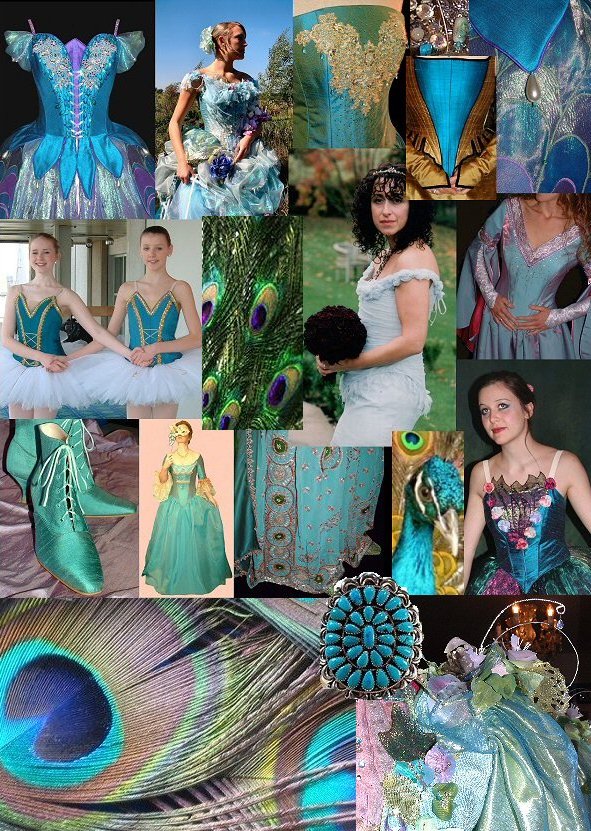 Natural Semi-Precious Turquoise
Natural turquoise can range in colour from vivid sky blue through various shades of green.
The name originates from "turc" as it came to Europe via Turkey.
Turquoise is the birthstone of Sagittarius: November 22nd - December 21st.
Turquoise was worn by Egyptian Pharaohs and was a sacred stone to American Indians.
It is said to possess healing powers and to guard against diseases.
It is believed to bestow wealth, happiness and good fortune.
"Turquoise" style wedding gown in any shade of silk dupion with matching beadwork - £2300.
Plain - £2100. Please contact for variations.
Copyright © 2007-2013 Theresa Blake. All Rights Reserved.