Introduction and
Information
(Home)
Classical Tutus
& Dance Costume

| | | |
| --- | --- | --- |
| Couture Bridal Gowns | "Peacock Blue Medieval" | |
Jade green silk shot with purple, and purple silk shot with green - a beautiful combination of shades, highlighted with luxurient gold lace trim. The colour tones of the gown changed constantly according to the light.
The gown was in two parts - a romantic skirt of teal toned crepe satin, overlaid with purple and deep blue chiffon - cut to split and reveal the luxurious satin beneath. The seperate back-laced corset bodice had fitted upper sleeves, edged in piping and gold trim. The lower sleeve was in the same chiffon as the top skirt layer.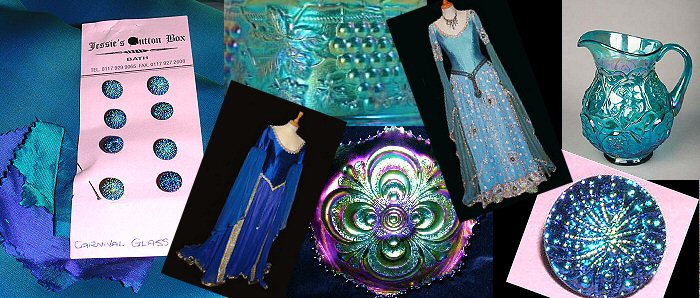 The gown's tones exactly reproduced the inspirational carnival glass buttons I have had for years (above left). Iridescent shades of blues, turquoises, violets and purples, highlighted with gold are always a successful combination.

Peacock Blue Medieval Wedding Gown Copyright © 2009-12 Theresa Blake. All Rights Reserved.